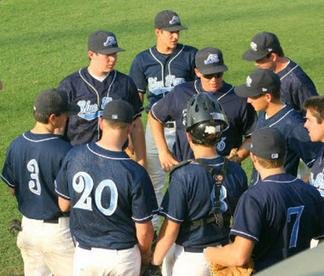 Blue Wave fields two high school-level teams for the Fall-Winter season.
Blue Wave Underclass is for juniors (grad year 2020), sophomores (grad year 2021) and a few advanced freshmen (2022) that play games on weekends in SEPT, OCT, NOV, and DEC against other underclass teams at the 16U, 17U and 18U levels.
Blue Wave 18U is for Upperclass (2019 and 2020) varsity high school starting players looking for additional game reps against top local competition.
Besides the two fall league teams, Blue Wave also field  optional teams in the three top local showcase events this Fall, including the USA Premier Fall Classic (OCT 5-8), Under Armour SoCal Classic (OCT 19-21 for Underclass, OCT 26-28 Upperclass), and the Cory Lidle Thanksgiving Classic (NOV 23-25).
OPTIONAL SHOWCASES & TOURNAMENTS 
Each of the above events cost $150 per player per event. These events are open to Blue Wave Fall League team players as well as non-Fall Team players. Cory Lidle Thanksgiving Classic is included in Blue Wave 15U Fall team player fee.
REGISTRATION AND PAYMENTS
All new players must REGISTER HERE online to tryout or play with Blue Wave, there is no cost to register.
Registered returning players simply need to send an eMail to let us know they will be attending tryouts and which team or events they want to participate in.
All player fees for league teams must be paid prior to September 1 to guarantee a roster position.
Player fees for showcase and tournament events must be paid two weeks prior to the event to guarantee a roster position with approval of the respective team coach.
All fees can be paid online on the individual team pages on this website or by check payable to "Blue Wave Athletics" and presented to the team coach by the start of the season.
Absolutely no refunds once the season or showcase/tournament starts.
For more information, contact Steve Kruse @ (949) 202-7748 or