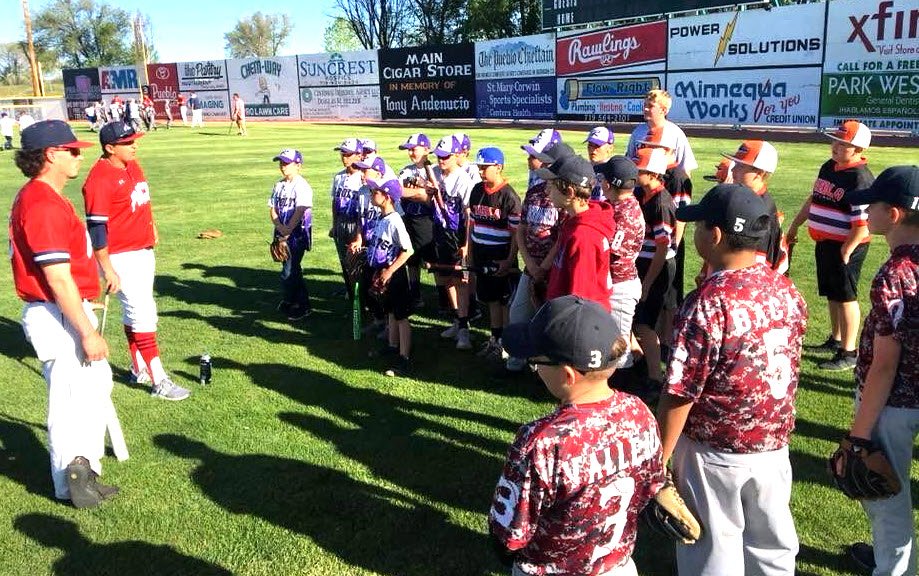 There is nothing more rewarding than to see a former player move on to better things and still stay connected to the game they love.
And Robbie Espinoza is one of those that is living the dream.
Though he is only 25 years old, he founded and runs one of the top youth baseball instructional organizations in the Yorba Linda area and now pursuing a career in commercial aviation.
"I have always been an entrepreneur, I started giving lessons to younger players right out of high school as a way to make money while going to college," Espinosa recalls.
Robbie started his Espinosa Baseball Lessons venture in the family's spacious backyard, where his dad built a pro-level batting cage for him when he was young. It is Equipped with a 70' batting cage, complete with an Iron Mike pitching machine, a pitcher's mound, infield area and professional lighting for night lessons
 "I spent a lot of time in that cage, you could say we are a big baseball family," he understated.
Most all the Espinosa's played baseball, including his cousin Danny Espinosa who played for eight years in the majors with the Nationals, Angels, Mariners, and Tampa Bay Rays. And Danny is now an infield coach for Mater Dei High School.
"My uncle and cousin were huge inspirations for me when I was going up," Robbie acknowledges. "I looked up to them and my parents were always very supportive of my baseball."
Robbie played Blue Wave Baseball when he was 12 and into the eighth grade, playing with Coach Mike Fuchs and later Coach Aron Garcia before he entered high school at Yorba Linda High School.
In high school, he was a catcher and one of their best hitters. In his senior year, he was named MVP of the Ryan Lemmon Showcase in Irvine, which features the top high school players in Orange County.
His college career started at Irvine Valley College, where he played for two years and gave him the opportunity to start giving lessons in his spare time.
"When I wasn't at school or studying, I was giving lessons and really liked doing it," he fondly remembers. "I made decent money doing it and liked the freedom to work with my own schedule."
For IVC, Robbie played in 69 career games, logging 190 at-bats. He hit two home runs with 11 RBIs as a senior and scored 16 career runs. He started his senior season with a 2-for-5 day with a double and two RBIs at Long Beach and did not commit an error in two seasons with the Lancers.
After two years at IVC, Robbie attended Colorado State University-Pueblo as a catcher but mostly served as their DH and put-up impressive stats for the NCAA college program.
"I was recruited by Coach Stan Sanchez at Colorado State, who had also coached at San Bernardino Valley," Robbie said. "I learned a lot from Coach Sanchez, he gave me a lot of confidence in my hitting."
As a Junior in 2018, Robbie was ranked third on the team with a .561 slugging percentage, batting .317 in 82 at-bats. He played in 34 games, primarily as the Pack's designated hitter with four home runs, the second-most on the Pack. He scored 17 runs, hit four doubles and two triples. He hit his first home run of the season in a pinch-hit appearance against Colorado School of Mines and went 3-for-4 with a home run and four RBIs against New Mexico for his first multi-hit performance.
By the time he graduated in 2019 for the Pack, his career NCAA batting average was .341 with a 1.015 OPS and .611 slugging percentage. In his last game for Colorado State, he hit a home run off the left-field foul pole against the Colorado School of Mines.
"Though I knew I was not going to be a professional player, it was very special to hit one out in my last college game," he notes.
After graduating with a business degree, he resumed his Espinosa Baseball Lessons in Yorba Linda, where he has developed a solid following with more than 500 students that have attended his sessions and many of his regulars lead their teams.
"Though I had several job offers right out of college, I knew I did not want to work for someone else," he explains. "I did not want to have my income limited by someone else. What I make is all do to my own efforts."
Applying his business degree, his marketing efforts demonstrate his success as he attends local Little League and PONY events to recruit students and is active in keeping his website, Facebook, and Instagram accounts fresh.
Today, Espinosa Baseball Lessons provides one-on-one Hitting, Pitching, Fielding, and Catching lessons to players of all ages. His lesson rates are very fair for youth baseball instruction in Southern California, he typically works with 70 to 90 players from ages 4 to 18, many from 8 to 12 as they prepare for high school baseball.
His Espinosa Baseball Lessons primarily focus on:
Player Development
Building Player Confidence
Teaching Proper Mechanics
Physical and Mental Training
Repetition of Fundamental Skills
Developing mental "toughness" as a hitter
Goal setting to compete at the next level
Though he is giving lessons, marketing, and operating his business, Robbie has earned his pilot license after his grandfather left a small plane to the family when he passed away.
"Like my grandfather, I love to fly and studying to become a commercial pilot," he said of his spare time.
So here you have it, a kid that started playing for Blue Wave at 12 years old, played baseball all through high school, was a top collegiate player, and now a successful businessman and working toward being a commercial pilot – all at 25.
It only proves that dreams can come true if you put in the work.
You can easily find Espinosa Baseball Lessons at: