Former MLB pitcher Michael Brady is now recruiting players for his Blue Wave 2027 team for the summer 2023 season.
This team is for top 8th graders that will be competing for high school positions this summer as they enter their first year of high school this fall.
Blue Wave 2027 freshmen team will play five to six local tournaments in June and July for maximum game experience along with weekly hitting and fielding practice. Each tournament, game, and practice session are individually priced and only paid when the player participates.
TRYOUTS IN MAY
Tryouts for new players will be held from 5:30 to 7 PM MON MAY 8 at OC Great Park Baseball Field 9, Irvine – or contact Steve Kruse (949) 202-7748 or eMail for more information or to arrange a tryout.
All players must register online to tryout at www.bluewaveathletics.com/registration – no cost to register.
COACH BRADY TAKES THE REIGNS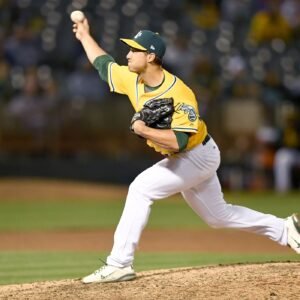 Coach Brady grew up in Rancho Santa Margarita and attended Santa Margarita Catholic High School where he played on the high school baseball team.
After graduation, he played for the University of California-Berkeley Golden Bears and was drafted as a shortstop by the Florida Marlins in the 24th round of the 2009 MLB draft.
After playing 3rd and 2nd in Class A and Rookie league in 2009, Brady moved to pitching for the Jamestown Jammers in 2010 where he had a 1.59 ERA in 49 games out of the bullpen.
Over the next several years Brady pitched at all levels for the Marlins, Los Angeles Angels, Washington Nationals, and the Oakland Athletics, where he made his major league debut in 2017.
Besides his high school, collegiate and professional experience, Coach Brady has experience working with youth players and club teams. He also gives private lessons in pitching, fielding, and hitting.