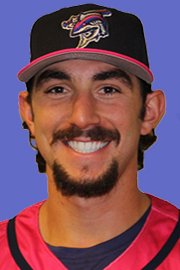 Blue Wave is excited to announce that Zack Weiss will be coaching with us during his off season.
Weiss is a member of the Cincinnati Reds, having been drafted in the 6th round of the 2013 MLB Draft. He played at UCLA from 2011-2013 where he was a member of the 2013 National Championship team. As a freshman, Weiss was a Louisville Slugger Freshman All-American. As a junior, he finished second in the country in appearances out of the bullpen.
Weiss has had a strong minor league career that earned him MILB honors as a post-season All-Star for the Southern League following the 2015 season in which he set the league record for consecutive saves (23). He played in the prestigious Arizona Fall League and was in invited to Major League Spring Training. Following an injured 2016 season, Weiss returned to action in 2017 and finished a strong season back in AA Pensacola.
Weiss is a local product from Irvine where he attended Northwood High School. He has coached young pitchers during the off season and has a strong understanding of how to maximize efficiency in their mechanics. He comes to Blue Wave with strong knowledge of injury prevention and how to build arm strength.
He will be working with Blue Wave 12U players on Thursdays at Northwood High School  and with Blue Wave 14U-16U pitchers on Tuesdays at Mater Dei.
He is also available for private lessons at (714) 552-5985 or  .