In typical Aron Garcia fashion, the longtime Irvine-area youth baseball icon guided his 13U team to a 4-0 sweep of the field in the USSSA Monster NIT (OCT 20-21) to earn their third consecutive tournament championship of the Fall as he entered his 12th year as a Blue Wave head coach.
For Garcia, the tournament and championship were business as usual, another day at the office.
Garcia, you see, is used to winning games and developing great baseball players and teams over the past 18 years as one of Orange County's top youth baseball coaches and player in his day.
His contribution and impact on youth baseball in Orange County is hard to quantify for Blue Wave, let alone Northwood High School and the city of Irvine, where he grew up, played high school baseball, and was one of the stars for the Northwood Little League team that played in the 1987 Little League World Series against Taiwan.
ONE OF ORANGE COUNTY'S MOST PRODUCTIVE COACHES
For starters, Garcia coaches a Blue Wave team in a local weekend tournament 45 to 48 times a year as an average, depending on whether he is coaching one or two teams. At an average of 4 games per tournament, he coaches around 175+ games per year for Blue Wave alone.
In his 12 years, one can safely say Garcia has coached nearly 2,000 games for Blue Wave – more than any Blue Wave coach that has gone before him, which includes Bret Kay (head coach JSerra HS), Matt Sorensen (head coach Golden Valley HS), Brett LeVier (head coach South Hills HS), David Bacani Jr. (former head coach Santa Margarita Catholic HS), and Rich Pohle (assistant coach varsity coach Brea HS).
LONG TIME  NORTHWOOD ASSISTANT COACH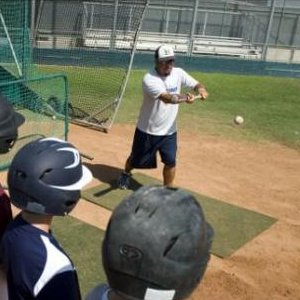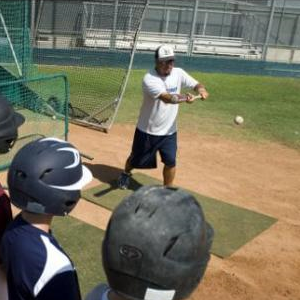 Garcia also coaches high school ball, he is an assistant varsity coach at Northwood High School, where he helps coach 40 to 50 varsity games per year, not to mention numerous JV and freshmen games.
He joined the Northwood staff in 2000, so add another 1,000 games to his credit. In his 18 years, Northwood has made it to the semi-finals on several occasions and has two league titles.
"I started playing for him the summer before I entered high school when I was 13," Minnesota Twins pitcher Zack Weiss recalls. "I was very intimidated by him, but he talked to you like an adult and explained what he expected out of you."
Weiss has been one of Northwood's top success stories, earning a scholarship to UCLA where he was a member of their 2013 College World Series championship team.
'ATTACK THE BASEBALL'
"No matter what the age, 9-10-11, or whatever, he treats you like an adult. It does not matter what mom or dad thinks, it's between you and him as your coach," Weiss added. "He does a great job of breaking things down, making it easier to understand, especially for younger players."
Weiss said Garcia's philosophy to "attack the baseball" no matter what you are doing (defense or offense) has
stuck with him through his collegiate and professional career.
Garcia's philosophy and coaching style has more than proven itself over the years, his teams are consistently competitive and highly ranked every year. He has more than 70 tournament and league titles to his credit, as well as 14U national championships in 2009 and 2010.
AN IMPRESSIVE RECORD
His 14U team was 67-14 in 2010, ranked 18th in the nation by Perfect Game national scouting service, and finished first or second in more than a dozen tournaments over a five-month span.
His 11U team won 7 out of 8 tournaments they entered in 2015 and were ranked No. 1 in Southern California and No. 10 nationally by USSSA.
Garcia's 2018 Blue Wave 12U team won eight tournament titles in eight months, compiling a 53-8-2 record that was capped off with the Cooperstown All Star Village Week 9 Championship.
"He knows how to communicate with the players," notes Chris Reiland, Blue Wave's 12U coach, whose son Ben was a member of the Cooperstown championship team and now plays on Garcia's 13U team. Reiland also scores all the 13U games and attended Cooperstown as the team's assistant coach.
"He (Garcia) always knows what's going, he does not miss anything that is happening on the field," Reiland noted.
From a player perspective, his son Ben likes Garcia's style because he is a "very honest coach" and "tells it like it
is."
HE TELLS IT LIKE IT IS
"He doesn't tell guys what they want to hear, he tells them what they need to hear," Reiland stated.
And, Ben should know, he has taken hitting lessons from Garcia since he was 10, was selected for the USA Baseball 12U National Championship team that won the World Cup in Taiwan last summer, with Reiland lead the Americans in hitting.
Garcia is also well experienced in playing in national tournaments; he was a member of the 1987 Northwood Little League team that played Taiwan in the Little League World Series.
MR COMEBACK
He was featured in a feature article in the OC Register about his experience in the LLWS, as well as when he was featured in a June 27,
1988 Sports Illustrated as "The Comeback Kid." And, in case you missed it, you can read the online version HERE.
Garcia was also a four-year varsity starter at Irvine High School, where he played shortstop. After high school, he attended  Saddleback College, where he played baseball and football. He has coached baseball and football since 1996 at Irvine High School, Mater Dei, and, currently, Northwood High School.
With everything he has done, Garcia is a remarkably humble coach and does not dwell on his national championships and titles. Instead, it's the "little things" in baseball he remembers best.
"My favorite win was a time our team was down by 10 runs with an
inning left and the other coach and team kept rubbing it in," Garcia recalled. "Then, we got some hits and confidence and came back to beat them."