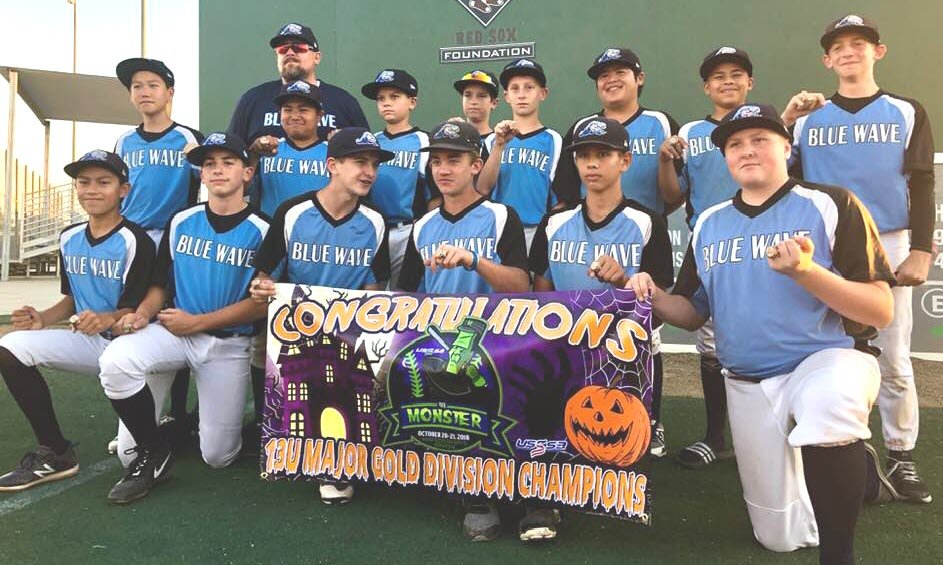 Blue Wave 13U captured their third consecutive tournament title this Fall by sweeping the field of the USSSA Monster NIT 13U Majors division at Big League Dreams Park in Southern California.
Blue Wave opened the 2-day tournament SAT OCT 20 with a 15-4 win over the Santa Ana Bears and a 7-3 win against the SoCal Rippers to earn the No. 3 seed going into Sunday's championship round.
On SUN OCT 21, Blue Wave defeated the No 2 seed LA Extreme White team 11-3 to face the Rippers in the championship game, defeating them 13-1 to earn the USSSA Monster NIT 2019 13U Majors Gold Division title to earn a berth in the USSSA Elite World Series next July in Florida.
This is the third consecutive tournament championship of the new baseball year for Coach Aron Garcia and Blue Wave 13U. They also won the Xtreme Diamond Sports Gold Glove (SEPT 15-16) and XDS Grand Slam II (SEPT 29-30) tournaments and have now won 12 straight games in tournament action this Fall.
Team members are Rylan Littlejohn, Derek Higareda, Ben Reiland, Andres Vaca, Wyland Okamoto, Austen Barnett, Treson Arita, Nolan Tillitt, Jeremiah Robles, Gio Sambito, Luke Wilson, Nicholas Keith, Kai Mo, and Brady Lemnitzer.