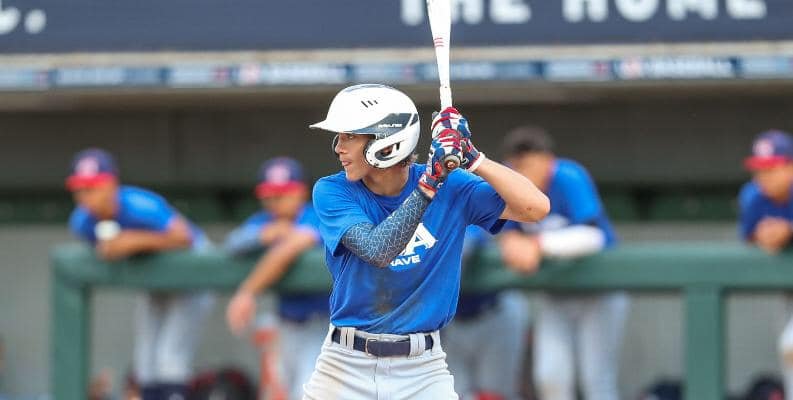 Though he just turned 14 years old, Ben Reiland could say he's "been there, done that!"
Of course, the humble young man would never say it, he's too busy pushing himself to get better as he prepares to play for his country against international competition this September in Mexico.
Reiland, you see, was recently named to the USA Baseball 15U National Team roster and will compete at the COPABE U-15 Pan-American Championships Sept. 13-22 in Playa del Carmen, Mexico.
And, its not the first time the Blue Waver will be representing his country in the great game of baseball. Reiland also played for the USA Baseball 12U National Team that won the 12U World Cup in 2017 in Taiwan.
"While I have a better idea of what to expect this time, I am playing with older, bigger players," the incoming 8th grader stated. "I have to practice and play harder to compete for playing time."
Reiland was named to the 15U National Team roster after earning an invitation to the 15U trials following his performance at the 2019 14U National Team Development Program in July. He was one of four players on the 14U National Team that were pulled up to the 15U 20-man roster.
He now heads to Houston, TX, to train SEPT 6-11th before heading to Cancun for the Pan American Championships.
"Ben is one of those players that comes along once in a generation," Blue Wave General Manager Steve Kruse noted. "He is one of those rare kids that has a lot of maturity, purpose, and conviction for his age."
He started taking lessons from Coach Aron Garcia when he was 7 years old and has played on his Blue Wave teams the past four years. The team has won numerous tournament championships in that time span.
"He's more physically gifted than most players his age," Coach Garcia pointed out. "He has all five tools and, on top of it all he's highly competitive."
Competitive enough the outfielder led the 2017 USA 12U National Team in hitting when they won the World Cup and is one of the most feared hitters for his age group in Southern California, a young player already generating some buzz with local high school and collegiate coaches.
And, while he is hoping to repeat his performance in Mexico, Reiland most wants to simply "win for my country," he proudly proclaims.
 "I still need to work on doing all the little things right," he adds. "It's a real challenge competing with the older players."
For more info on the USA Baseball 15U National Team click HERE.
EDITORS NOTE: USA Baseball 15U National Team ended up defeating Panama 3-1 for the World Baseball/Software Confederation (WBSC) U-15 Baseball World Cup Sept. 22, 2019, in Playa del Carmen, Mexico. Reiland hit a lead-off triple in the top of the seventh inning and scored to extend the lead 3-1 for the stars and stripes.