BLUE WAVE PLAYER/PARENT CURRENT COVID-19 RULES
As most of you know, Blue Wave is presently offering "camp-style practice sessions" that have been approved to meet current city, country, and state COVID-19 guidelines, restrictions, and protocols.
All players and parents are advised to review current CDC COVID-19 guidelines as well as review our Blue Wave protocols and rules that everyone must follow in order to participate in any Blue Wave event.
In general, most exercises and drills will be conducted under the social distance standard (6 feet) as much as possible with players working in groups of 8 to 12 as they rotate through Infield, Outfield, Hitting, and Bullpen practice sessions at separate locations of the field, depending on the event.
Players are not required to wear a face mask for these camps, but contact drills, scrimmages or games are presently excluded. Players are also not allowed to pitch to each other at this time but expect to see full-contact practice sessions and games as soon as permitted.
All players must be registered online HERE to be able to play in any camp, practice, game, or Blue Wave Athletics event. There is no cost to register and you only need to register once a year.
Meantime, all players and parents must comply with all Blue Wave Baseball COVID-19 Ptorocols & Requirements as follows:
CAMP/PRACTICE OPERATION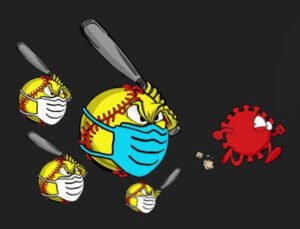 The field will be organized for infield, right field, left field, bullpen, and batting cage (2 tunnels).
Each area will have a coach focused on the skill areas assigned on the field.
Campers will be assigned to groups of 8 to 10 players throughout the camp and move from various skill areas every 30 to 40 minutes (Infield, Outfield, Hitting in cages, etc.). Campers will stay with their groups as they proceed through camp.
All skills and drills will be done in a social distancing approach by keeping all campers 6 feet apart as part of any exercise, drills or skills.
Will not scrimmage or have players pitch to players for this camp – only coaches will pitch to players.
ARRIVAL
Player/Team starting/departing times will be assigned prior to the start of camp.
Players will be asked if they have a fever or any COVID-19 symptoms, Coach or Staff will have no-touch temperature device to check Players as they enter the field.
Players are allowed one bat bag, no food, seeds, gum – just water or Gatorade.
Players will store their bag along the fence six feet apart.
Players cannot share their equipment or gear.
Players do not have to wear a face mask but requested each camper have one in his bat bag in case where they are instructed to wear them for reason.
Players are requested to wear face masks as they enter and depart the field to and from your vehicle in the parking lot.
Players are required to bring sanitary wipes or hand-washer that can be used at the end of drills and skill sessions or, at least, at the end before departing the camp.
SPECTATORS
Only one spectator per Player allowed to watch camp but must observe current social distancing guidance, including face mask.
No spectators allowed near batting cages or along fences, or grass areas as will be needed for camp and distancing.
Spectators must stay in seats behind home plate area if at all possible.
No spectator is allowed to come to the field or be inside the field, if you need to talk to a coach, please do after camp or by phone. Phone and eMail addresses will be provided for each coach at the event.
Spectators are encouraged to wear a face mask during camp in helping set an example for the players.
REGISTRATION
All Players MUST register online on Blue Wave Athletics "REGISTRATION" page regardless of whether you are returning or new players to participate in these camps and going forward.
Players & Parents will review current COVID-19 guidelines and precautions posted.
Players must also execute a Blue Wave Athletics Liability Release waiver and return by eMail.
BLUE WAVE COACHES & STAFF
All Blue Wave Athletics officials and coaches have been educated on COVID-19 guidelines and precautions.
Each Coach will ask Players if they have any symptoms or have a fever before participating in camp activities.
Any occurrences of Players that show symptoms will be brought to the attention of local officials.
BLUE WAVE ATHLETICS, INC. DIRECTORS
Steve Kruse (949) 202-7748 or
Aron Garcia (562) 301-6516 or .
Carlos Cornejo (949) 683-3453 or .